Dentistry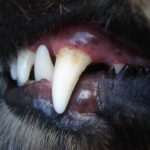 Does your pet have dental disease?
Many pet live with infected and painful teeth without showing any signs of discomfort. This is why regular dental exams are so important. If you have ever had a toothache, you know how badly they can hurt.
Signs of dental disease include:
Avoids chewing on one side of the mouth
Reluctant to eat hard food or stops chewing on hard treats
Moves away when head or mouth is touched
Bad breath
Red gums
Tartar visible on teeth
Drooling
Swelling on the face
Infected teeth can also cause infections elsewhere in the body, including the heart, liver, kidneys, bladder, skin and joints.
A proper dental cleaning and exam will require general anesthesia. It is impossible to thoroughly clean the teeth and examine the mouth in an animal that is not sedated. We often find growths or sores in the mouth that would be missed without a thorough visual exam.
A dental exam is not complete without full mouth x-rays. Many pet teeth have roots bigger than the tooth itself, and the only way to examine the entire root is to take an x-ray. Pet x-rays are done the same way that you get x-rays when you go to the dentist, the problem is getting the pet to hold still – this is where anesthesia becomes necessary. We use the safest drugs available and provide constant monitoring while your pet is anesthetized in our clinic. In addition, all patients receive IV fluids, homeopathic support, laser therapy to enhance healing and pain management as needed. We will also advise you on proper diet and home dental care to help keep your pet's mouth healthy after the procedure. See the video below for a first-hand look at a dental procedure at Belleview Animal Clinic.
What happens when I drop my pet off for dental cleaning?
First, a veterinarian evaluates the health of your animal and evaluates recent laboratory work to ensure that anesthesia is as safe as possible. Next, your animal is given a light sedative to relieve any anxiety and to ensure that induction to anesthesia is smooth. An IV catheter is placed to allow your animal to receive fluids under anesthesia. These fluids allow your animal to stay hydrated as well as to maintain adequate blood pressure while under anesthesia. Your animal is then placed under anesthesia. Blood pressure, heart rate, respiratory rate and body temperature are monitored regularly. Full mouth dental x-rays are taken to evaluate the tooth structure under the gum. Next the teeth are cleaned using an ultrasonic technology. The teeth are clean above and below the gum. Next a full oral examination is performed to find any gingival pockets, loose teeth, fractured teeth, abnormally colored teeth, masses or other abnormalities. Based on the findings of the x-rays and oral examination a treatment plan is created. This plan may include extraction of teeth, placement of antibiotic gel in gingival pockets, and mass removal. A veterinarian will then call you to discuss treatment options and associated costs. Together you will decide the best course of action for you and your pet. After the treatments are performed, your animal is recovered and at this time, we will call you and let you know that your animal is awake and well. We will also schedule a time for you to pick up your animal.
Wellness Plans
At Belleview Animal Clinic we have designed affordable wellness packages with services that includes a complete array of necessary care designed to help pets live longer through proactive healthcare.  Making the right decisions for your pet's health now will help them live longer, healthier lives. Prevention of diseases as well as early detection can make a huge difference in the longevity and overall health of your pet, and that is what a wellness plan is designed to do.
We want to do everything possible to help your pet live the longest, healthiest life possible.
Adult Wellness Plan
Pet Wellness Plan SAVE $350 overall

Semi-Annual Comprehensive Wellness Examinations
Unlimited Office Visits for Preventive & Maintenance Care
Free Nail Trims with Examinations
Two Fecal Examinations
Annual Heartworm Test (Canine) – FeLV/FIV Test (Feline)
2 Annual Labwork panels including; Complete Blood Count, Chemistry Profile,
Vaccination Series as Recommended by our Veterinarians and Based on Patient Lifestyle. May Include; Distemper, Parvo, Bordetella, FeLV and Rabies Vaccinations.
10% Off Additional Services
Dental Plan Add-On. SAVE

Dental Prophylaxis Including; Anesthesia, Electrocardiogram & Blood Oxygen Monitoring, Full Mouth Radiographs, I.V. Catheter & Fluids during Procedure.
****(Extractions, Oral Surgery & Medications are not included)****
Senior Pet Add-On

Two View Radiographs
Urinalysis
Holistic Add-On
Four Acupuncture Treatments
Distemper Titer (Canine)
Rabies Titer Distemper
15% Off Holistic Medications, Herbs & Homeopathic Medications
15% Off Specialty Holistic Services Including; Chiropractic, Laser, & Ozone Therapy
Puppy & Kitten Wellness Plans
Our puppy wellness program is designed to help get your puppy or kitten started on the right path to a long and healthy life. The first few months are a critical period in your their development, and we can give you the support and tools necessary to help him or her grow into a well-mannered, healthy dog or cat, including information and advice on nutrition, training, behavior, and socialization.
Schedule your puppy or kitten for their first exam as soon as possible. Until they have received a series of vaccines, he or she is susceptible to many serious but preventable diseases. They will also need to be tested and treated for parasites, which are extremely common in young dogs or cats.
Most puppies and kittens have roundworms, which are intestinal worms that can cause vomiting, diarrhea, and other gastrointestinal signs (although they can have worms without showing any symptoms). It is important for them to be treated for roundworms, not only to rid them of the infection but also to prevent you and the rest of your family from becoming infected. Roundworms are a zoonotic parasite, which means they can be transmitted from pets to people. By ensuring that they are properly treated, you can keep your entire family safe from these and other parasites.
We look forward to meeting the new member of your family! Schedule your appointment today.
Wellness Plan (Under 12 Months of Age). Save Over $350
Comprehensive Wellness Examination
Unlimited Office Visits for Preventive & Maintenance Care
Free Nail Trims with Examinations
Two Fecal Examinations
Two Deworming Treatments
Vaccination Series as Recommended by our Veterinarians and Based on Patient Lifestyle
Distemper Titer (dogs)
Heartworm Test (dogs)
Feline Leukemia & Feline Immunodeficiency Virus Test (cats)
10% Off Additional Services (Excludes: Food, Specialty Services & Certain Medications)
Spay or Neuter Add-On. Save over $125
Pr-Anesthetic Blood work
Spay or Neuter Procedure
Microchip
Diagnostics
Traditional diagnostics are often essential to fully evaluate your pet's condition. Outward symptoms may not be apparent until a disease process is quite advanced.
Bloodwork
Bloodwork is a very important way of looking inside your pet and evaluating the function of internal organs, blood cells and the endocrine system. It is a valuable aid if you pet is sick to help with the diagnosis, as well as a way to establish a valuable baseline if your pet is healthy. This is especially important in older animals as things can change internally before we ever see symptoms develop.
We also perform bloodwork before any procedure requiring anesthesia. This will help assure that your pet is healthy enough to eliminate the medications given during the procedure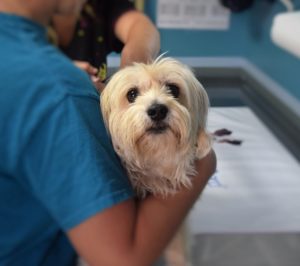 Lumps and bumps
Have you ever found a lump on your pet and wondered what it was? We can help you find out. We can do either a simple needle aspirate (performed during your office visit), or a complete surgical excision and biopsy for a more complete diagnosis. Either way, we will give you the information you need about your pet's lump or bump.
X-rays
We take x-rays to get an inside look at joints, bones, internal organs and the spinal column. We also take dental x-rays to identify problems with teeth that are not obvious on casual exam. Click here for more information on dental care. We will discuss the benefits of x-rays in your pet's case to help you decide if this is a valuable option
Ultrasound
Dr. Jennifer Grimm, with Diagnostic Imaging, is a board-certified radiologists that provides our clinic with advanced diagnostics and information regarding radiographic imaging. They bring mobile ultrasound to our clinic, which is a live imaging technique used to help diagnose your pet when it is sick. Her availability can vary, so call our office to schedule an appointment.  For more information about Dr. Grimm and Diagnostic Imaging visit their website at  http://diagnosticimagingforanimals.com/Jen%20bio.html
Echocardiagram
Echocardiagrams are an ultrasound of the heart, which is a live imaging technique used to help diagnose heart disease.
Urinalysis
This is a chemical and microscopic examination of your pet's urine to check for infection, evaluate kidney function, and check for signs of other disease such as bladder stones or diabetes.
Fecal exams
A microscopic examination of your pet's stool will check for internal parasite and certain disease-causing microorganisms
Skin and Ear
A microscopic exam of the skin or ear will reveal the presence of mites or yeast.
Fungal Cultures
This is a test that will grow ringworm and other fungal infection to determine if this is a cause of skin disease in your pet
Examinations
We are committed to giving your pet the best possible care. Although we offer a variety of alternative treatment options, we find that sometimes traditional medical becomes necessary and in the best interest of your pet. We will provide the best of all treatment options in order to help your pet. We always start with a complete physical exam – please see below for more detailed options.
Wellness Exams
Physical exams are important for pets of all ages. Young pets need to be checked for proper weight, growth, and development. Pets age much more quickly than humans do. By age two, many pets have almost reached adulthood. At age four they are entering middle age, and by age seven many dogs are entering their senior years. We recommend exams every 6 months to keep your pet in optimal health and detect health problems early. Our exams include checking teeth, ears, eyes, heart, lungs, abdomen, muscles, joints, and skin. In addition, we will do, if indicated, blood work, x-rays, blood pressure, or ultrasound diagnostics.
Sick pet exams
Whenever your pet is showing symptoms, we are here to help with diagnosis and treatments. In addition to a complete physical exam, we will perform any necessary diagnostics such as bloodwork or x-rays.
Emergencies
We are here to help whenever your pet has a sudden injury or illness. During regular office hours, please call our office first so that we know to expect you. If you have an after hour's emergency, please view our list of quality referral clinics on the Client Center page.
New client exams
We provide more than most clinics to all of our new clients, including:
A complete historical review, including past medical records, diet and vaccine history.
Dietary recommendations specific for your pet
We provide a vaccine recommendations based on your pets needs and risk of exposure
Behavioral advice if needed, including referrals to qualified trainers and behaviorists
A complete physical exam
In addition, we allow adequate time to answer all of your questions about your pet's care. For more details, please visit the Client Center page.
Holistic consults
This is a special exam for pets that have been seen by another veterinarian and you are looking for alternative treatment options. We charge a bit more for this exam due to the time involved in reviewing records, contacting former veterinarians if needed, and discussing treatment protocols.
It is very helpful if we can receive past records 72 hours prior to the visit so the doctor has adequate time to review them prior to your visit. You can fax or e-mail directly, or we are happy to contact your other veterinarians on your behalf to request the records transfer.
Vaccines
Traditional vaccinations
We recommend waiting until 8-10 weeks of age for the first vaccination, and only give vaccines for the diseases that your puppy is likely to contact. We give parvo and distemper as separate vaccines, which can be given at the same time, or at weekly intervals to minimize stress on the immune system. We then recommend a booster vaccination 4-6 weeks later. We then booster at 3 year intervals to to keep your pet current.
Antibody titers may be checked at the time a booster is due to see what level of protection your pet already has.
A detoxification protocol is available to help your pet process the vaccinations and minimize adverse effects
Rabies is given at 6 months of age and boosted at 3 year intervals. We provide lyssin, a homeopathic remedy to specifically help eliminate the effects of the Rabies vaccine.
Bordetella vaccination may be given if required by boarding or daycare facility